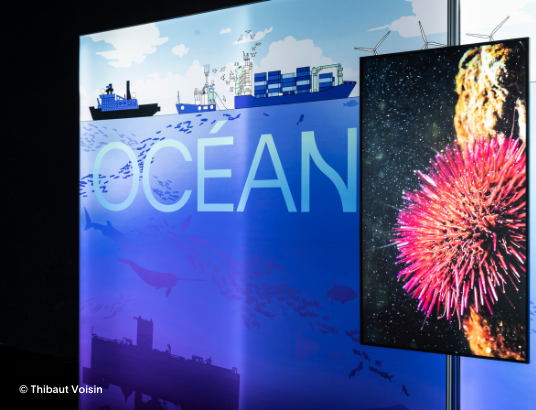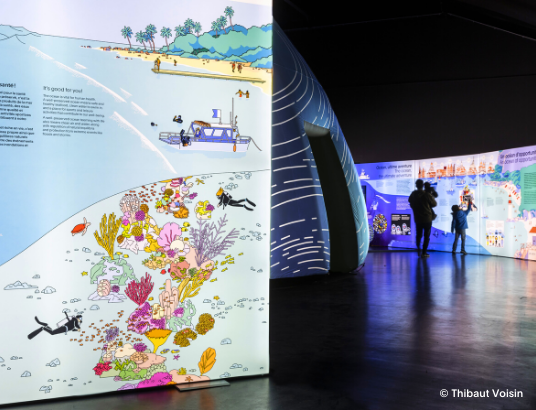 A unique immersive experience
For young and old alike, the OCEAN exhibition is a unique immersive experience in France. Children and adults are invited to dive into the ocean, from tropical coral reefs to the depths of the abyss. A unique opportunity to learn more about the maritime dimension of the European continent, the many activities that depend on the Ocean and to walk in the footsteps of those who love it, live thanks to it and protect it.
Discover and develop your knowledge in an educational and playful way thanks to a drawn fresco, short movies and a visual immersion during a long film projected at 360° in a giant inflatable dome. The ocean is waiting for you !
DISCOVERING MARITIME EUROPE
Did you know that the European Union has the largest maritime area in the world? With its overseas territories, the European maritime domain extends over all the ocean basins of the planet. A unique heritage that has contributed to the history, culture and identity of our societies.
The French Presidency of the European Union is taking up ocean issues to help you (re)discover the tremendous potential of maritime Europe and remind you of the importance of preserving and sustainably governing this unique ecosystem. Whether we live near the coast or inland, in France or overseas, we are all linked to the ocean.
DATES AND TIMES
Ile des Embiez
Du 21 juillet au 23 août
Salle Marcel Pagnol, de 10h à 18h
REGISTRATION
Entrée libre
The OCEAN exhibition was made possible thanks to the support of many partners and actors. Discover them without further delay!
More information
---
All these actors are involved in the preservation of the ocean. What about you?
Getting involved